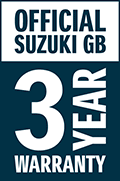 Warranty

All new Suzuki On-Road motorcycles officially imported into the United Kingdom by Suzuki GB PLC and first registered in the UK between 01-01-2023 and 31-12-2023 will benefit from an additional one year extension to the normal Two-Year Suzuki Warranty, such one year Warranty extension to apply subject to the following conditions:
Warranty extension only applies to such motorcycles which are regularly serviced through a UK Authorised Suzuki Dealer, in accordance with the schedule in the Owner's Manual; and in the UK only, for one year commencing from expiry of the normal Two-Year Suzuki Warranty, and only for motorcycles which are kept in the UK during the Warranty extension period; If you are a consumer, this extended Warranty is in addition to, and does not affect, your legal rights in relation to products that are faulty or not as described.
The warranty is for the benefit of the first and subsequent private consumers.
MX Warranty - Suzuki Manufacturers 6 months parts warranty:
Suzuki Off-Road bikes are designed with cutting edge technology, but this innovation does not sacrifice reliability. Our promise to provide the highest quality machines is backed up with a peace-of-mind 6 months parts warranty. This warranty applies to the entire Suzuki Off-Road Range and demonstrates Suzuki's continued commitment to customer service. If you buy an unofficial import, you will not get this.
The MX parts warranty is offered to the first owner only.